Qur'an Reflective Journal
Qur'an and ''Me'' is a daily Qur'an reflective journal to help you build a personal relationship with the Qur'an. Qur'an Journaling is a tool that helps you build mental, emotional and spiritual connection with the Qur'an.
This reflective journal allows you to model the greatest person to ever live, Rasulullah (Peace and Blessings be upon him) in making your character the Qur'an.
Qur'an and Me reflective journal also contains daily motivational and inspirational quotes and the support you need in setting your goals, reflecting on the verses of the Qur'an, reviewing your progress and living with the Glorious Qur'an.
It is about who you are, your personal link, it is about Qur'an and You.
Jannah Jewels Book 1: The Treasure of Timbuktu (Volume 1) Paperback – November 1, 2010 | Amazon
The Jannah Jewels land in the ancient city of Timbuktu in Mali. Suddenly, they are caught in the middle of a mystery. Someone has stolen a priceless manuscript! While following clues, they find the Grand Mosque and discover the Treasure King. Who exactly is the Treasure King and can the Jannah Jewels restore the missing manuscript into a Golden Clock before time runs out?
If I Should Speak: a novel Paperback | Amazon
The author promises to revolutionize story telling in this powerful story about three college students, one Christian and the others Muslim, who find themselves unlikely roommates at a small, private American university.
Arabic Sound Series – Wisam Sharieff
All Arabic Sound Series Lessons – Wisam Sharieff
Nuraniyah – Harakaat (Arabic Vowels) – Imam Raza
Islamwise: A Home for new Muslims
It is a beautiful website that provides a comprehensive service that is tailored to nurture New Muslims through education and support.
Solace
SOLACE is a support service for revert sisters in difficulty, regardless of whether they have been Muslim for 2 weeks or even 20 years; it supports them when they are going through life's problems alone, suffering in silence, or even no longer enjoying their Islam. SOLACE is there to listen to them, empower them, and develop a mutual personal development plan which is realistic and person centric, and which will help them reach their short and long term goals.
Muslim Now
A nice website to assist your initial transition into Islam, providing you with a source of inspiration and motivation, and to make you comfortable with your decision to become a Muslim.
Mission Islam
A website that promotes accurate representation of Islam by providing correct information thereby encouraging individual responsibility for seeking and acting upon the Truth.
Tajweed, Recitation and Qur'an Memorisation
Live with the surah you are memorising with this free companion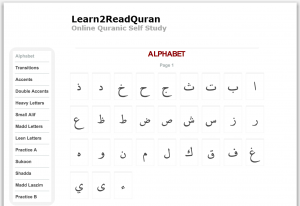 It is an online Quranic "talking book." This tool will help you practice the Arabic alphabet, the application of accents, and the construction of words. [via Wisam Sharieff]
Works of Tafseer (English)
Tafsir Al Jalalayn by Mahalli, Jalalu-Din Al, As-Sayuti, Jalalu-Din (December 4, 2007) Hardcover | Amazon
Quran for Android | Google Play
Simple well-made app, with the Madani Mushaf page layout and it includes reciters, repetition, and Sahih International English for download. This app has the smartest table of contents I've seen in a Quran app: with Juz and surah as well as rub' and hizb listings. It allows multiple bookmarks and you can tag ayahs for future reference or research. It also includes one of the most comprehensive offerings of Arabic Tafaseer including At-Tabari, As-Sa'adi, Ibn Kathir and Ibn A'ashur's At-Tahrir wa At-Tanweer; among others.
Ayat – Al Quran | Google Play
The app provides: scanned(soft) copy of real printed Mosshaf, copy of Mosshaf Al-Madina, copy of Mosshaf Al-Tajweed (colored according to Tajweed rules) and copy of Mosshaf Warsh (Rewayat Warsh An-Nafei'), Al Quran recitations by many famous reciters (two of them are by Rewayat Warsh an-Nafei'), repeating each Aya as many times as desired with time interval in between, direct browsing the Mosshaf by Sura/Aya(Chapter/Verse) , Juz(Part) or Page number, six Arabic Tafsir(Commentary) "Al-Saa'di, Ibn-Katheer, Al-Baghawy, Al-Qortoby, Al-Tabary and Al-Waseet", one English Tafsir(Commentary) "Tafheem Al-Quran by Al-Maududi", E'rab(Grammar) Al-Quran by Qasim Da'aas, text Translation of the Qur'an meanings for more than 20 languages, voice Translation of the Al Quran meanings for two languages (English and Urdu)
Quran Tafsir Pro | Google Play
Quran and Tafsir Pro is a Qur'an application and study tool for all android devices, large and small.
This app provides a full quran download and tafsir to take with you wherever you go. Reading the tafsir is a good way to better understand and learn about the quran.
القرآن الكريم (Application of the Holy Quran)| Google Play| iOS
Stunning to look at (especially night mode), same page layout as Madani Mushaf (useful for memorization). Ideal for Arabic speakers, not great for English translation, and the menus are in Arabic. Also has reciters, repeat, multiple Arabic Tafasir (Commentaries) are available for download, it has color-coded bookmarks and ayah. word, page search.